Upgrading Your Stadia Maps Subscription¶
We offer several subscription levels: from free to enterprise plans. You can evaluate which plan meets your needs by visiting our pricing page and reviewing each of their details. Unsure of which plan to choose? Please reach out. We are happy to help.
Adding Payment Information¶
Before you can upgrade your plan, you need to add your payment information. If you have already added a valid payment method to your account, you can skip to the Selecting a New Plan section.
First, log in to your account. Then to navigate to your account details:

To add a new payment method, click on the add a payment method link under the Payment Method section. If you already have a payment method on file, but need to update it, you can do that as well by clicking Update Payment Method.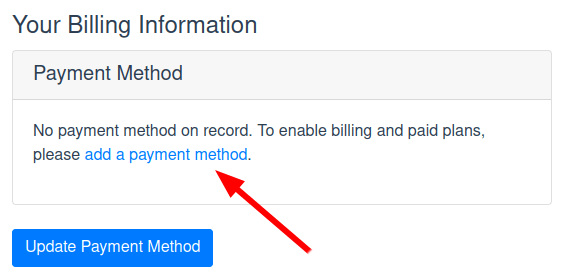 Enter your payment method details, review the information, and if everything looks good, click Add Payment Method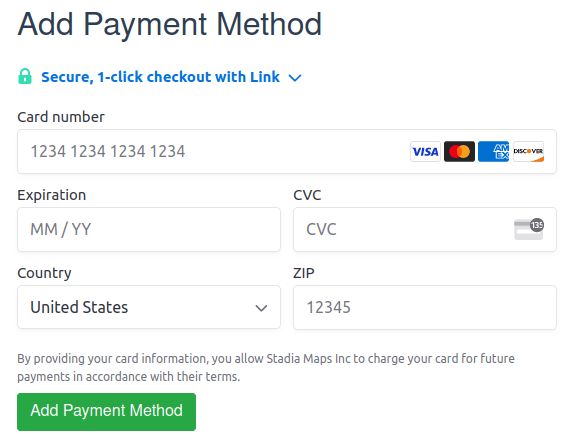 And that's it. With your payment information entered, you can now select a new subscription plan.
Selecting a New Plan¶
Each Stadia Maps plan comes with its own specific set of credits, additional credit prices, and API access. If you need help picking your plan you can review our pricing page or ask us to assist.
First, you will need to navigate to the main Dashboard page and then click Change Plan: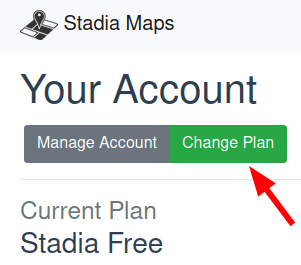 Select the plan you want to upgrade to and then decide if you want to enable Additional Usage.
By default, Additional Usage is disabled and your requests will be hard limited once your account hits the plan's credit limit. Don't worry though, you will receive emails as you approach this threshold.
If you would like to prevent your account from being hard limited, enable Additional Usage, and anything above your plan's credit limit will be charged at the listed additional credit rate on your next bill.
You can enable Additional Usage at any time.
After you have made your decision, review your selections and then click Save Changes

And that's it! Your plan has now been updated.
A new invoice will be issued if you are upgrading from our Free plan to a paid subscription. If you are changing from one paid subscription to another, the changes will be prorated. See our billing FAQ for more details.
If you experience any issues or have questions, please reach out. We are happy to help.